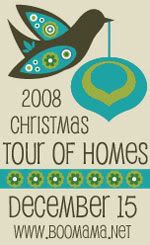 Welcome to our Christmas home! I'm so glad
BooMama
is hosting the home tour again this year because I love to read about all the traditions and to see all the beautiful decorations. I enjoyed visiting last year, and am excited that I have my own blog this year to join the fun. Come on in...
We put our tree in the den every year because that is where we spend all our time.
We have so many ornaments that hold special meaning to us, and unwrapping them each year is a special trip down memory lane.
We decorated the mantle to match the tree with colored lights and garland. This year I tucked Santas above the stockings. I've always wanted matching stockings with our names on them, and I hope to find some on clearance after Christmas this year that I can embroider and hang next Christmas. This year we don't have a stocking for the baby, because I didn't want to buy another mismatched one. Please don't tell her, because I'm sure this kind of childhood trauma is not a good thing.
I have a soft spot for felt snowmen. My once small collection has "snowballed", and now fills the hutch in my den. . .
. . . and even spills over into the kitchen window. You can never have too many snowmen.
I change up my plate rack for Christmas by adding reindeer plates and holly.
This is the story we are reading this year for advent. It is an adventure story called Jotham's Journey, and it is very exciting!
I add one new piece to my manger set every year. It sits on top of the piano in our entry hall.
Setting up our Dickens Village is a family affair. My husband gave me a starter set for our first wedding anniversary, and we have added bits and pieces to our lively little town through the years.
My boys have their own special tree in their bedroom. It is red, with mostly red lights. This year, we added one strand of green in honor of John Deere. The tree is filled with cowboy and John Deere ornaments. It is also slightly unorganized, askew, and crooked. Because, as I said, it is a boy tree. :)
Aaaahhhh. My hope. My joy. My king.
My true reason for the season.

May God Bless you this Christmas, and may you have joy with your loved ones.
I'm hosting
my Mom's house
too, so scroll down and take a peek before you go. She is an avid blog reader, but doesn't have a blog of her own yet.
Boo Mama
has lots of houses this year, so stop by and take a look.
I'm baking today, so I invite you to come back later for some of my favorite cookie recipes!