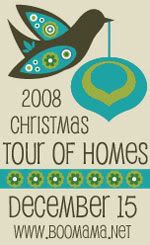 It's time for
Boo Mama's
Christmas Tour of Homes. It is so much fun to see how everyone has their halls decked for the season. Mom and I have helped each other get our homes decorated this season, and we've both been looking forward to participating in this tour. Mom doesn't have her own blog, so I have the privilege of showing both our homes on my blog. My kids call my Mom "Oma", which is German for "Grandma".
Welcome to Oma's Haus!! Come on in and take a peek...
Mom has several fun collections which she loves to group together. Both the mantles are full of angels nestled in greens.
Wooden Santas cluster by the sofa...
...and chimney sweep nutcrackers fill the bookcases. Many of these are from Germany.
My kids used to play with her nativity scene when they were younger.
Now they love to stand and stare at her marvelous Dicken's village. It is a bustling town!
Her tree is filled with lots of sentimental ornaments. She has glass icicles and crystals from antique chandeliers mixed with the ornaments to give the tree lots of sparkle and shine! We say it is the "frosting" on the tree.
The little baby doll in the rocking chair was mine when I was a young girl. Her name is Baby Emily. Every year my Mom dresses her in a Christmas outfit and puts her by the tree in my old rocker. Baby Emily was a Christmas gift many, many years ago and was my all time favorite toy.
Mom always has plenty of goodies to share with family and friends at her gorgeous table. If you were to drop in today, she may have a tray of dainty shortbreads to share.
Christmas Shortbread Cookies

2 cups flour
1/2 cup cornstarch
1/2 cup powdered sugar
1/2 t. salt
1 cup butter
Cream butter. Add sugars and salt. Knead in flour and cornstarch. Pat out to about 1/2 inch thick between two sheets of waxed paper. Cut with very small, decorative cookie cutters. Bake at 325 till just light brown. Take out of oven and immediately put 2 or 3 chocolate chips on each cookie. Wait a few minutes, then spread the chocolate when soft.
Thanks for touring Oma's house. Enjoy the other homes on the tour, and blessed Christmas wishes to you from Mom!